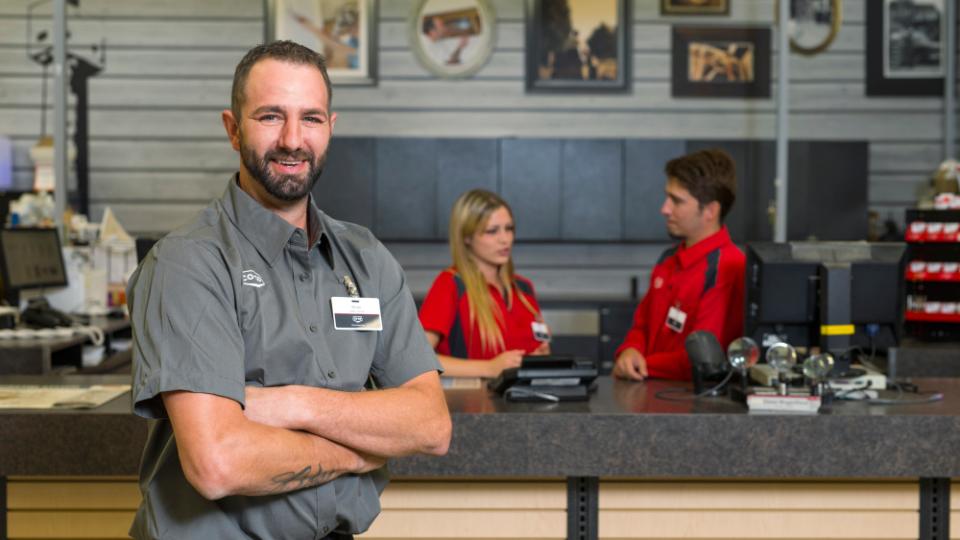 Facilities Manager
North Battleford
Description:
Discovery Co-operative is hiring a Facilities Manager for our Maintenance Department in North Battleford, SK.
Who we are:
Co-op does business differently. As a co-operative, we believe in working together to serve Western Canadians, delivering profits back to our communities and investing in sustainable growth. Discovery Co-op operates in the communities of the Battlefords, Radisson, Glaslyn and Cutknife. We have over 300 employees 14,900+ active members. We are a growing Co-op and our sales were over $130 million dollars last year. Discovery Co-op operates in variety of commodities such as grocery, liquor, pharmacy, petroleum, home and building solutions, food service, retail fashion, sporting goods, and agriculture supplies and services. To learn more about who we are and how you can help bring our brand to life, visit us at www.discoverycoop.crs
What you'll do:
Reporting to the General Manager you will oversee the maintenance team, daily maintenance programming and services for all Discovery Co-op locations and tenants located in the Co-op Mall. As the Facilities Manager, you will also be the lead for arranging any contracted related services and construction projects as directed by the General Manager. Your duties will include:
• Oversees the in-house maintenance activities for Discovery Co-operative Ltd. such as inspections of buildings, equipment, refrigeration system, HVAC, fire suppression systems, maintenance requests for Discovery Co-operative departments and mall tenants, snow removal, orders products and materials as required to complete necessary maintenance and repairs.
• Keeps accurate records and logs for completed inspections, maintenance, repairs, system readings such as HVAC, etc.
• Responsible for ensuring perimeter security is maintained at the mall location and maintaining the security alarm system, operations of the fire panel, sprinkler system, building security and video surveillance systems. May be required at times to lead Discovery Co-op emergency response procedures and protocols.
• Overseeing adherence to brand, merchandising and image standards, marketing efforts, safety, and asset protection.
• Accountable for preparing and overseeing the annual maintenance budget, business planning and project planning.
• Establishing short-term strategies, goals, and objectives for the store in alignment with the strategic plan.
• Coaching and developing team members by providing day to day direction and guidance, including safety, recruitment, performance management, training, and development.
Why it matters:
Our team provides a range of products and services to support our member-owners. Through the work that we do, we help to build, fuel, feed and grow Western Canadian communities together.

Who you are:
You are looking for a career in Facilities Management and have:

• A trade certification in either carpentry, electrical or plumbing. Low pressure boiler operation certification required and 5th class engineer or more an asset.
• 5 years' plus of facilities management experience preferred; commercial construction experience would be an asset.
• Mut have a valid driver's license.
• General knowledge of computers and skills (e.g. Microsoft Word and Excel).
• Must be knowledgeable and understanding of commercial buildings and relative legislative requirements. Knowledgeable of HVAC controls and operation, building structures such as reading blueprints and commercial construction.
• Heavy lifting required up to 100 lbs.
• Must be capable of operating different types of machinery and equipment such as forklift, pallet jacks, power pallet jacks, etc.
• Must be a team player with proven leadership ability and excellent communication skills.
• Possess strong decision-making and problem-solving skills.
• Develops effective business partner relationships with a variety of stakeholders.
• You're honest, trustworthy, results orientated and strive to be the best in what you do.
• Must be available at times on evenings and weekends.

Essential Competencies:
1. Directs Work – provides direction, delegates and removes obstacles to get the work done
2. Optimizes Work Processes – knowing the most effective and efficient processes to get things done, with a focus on continuous improvement
3. Resourcefulness – Securing and deploying resources effectively and efficiently
4. Customer Focus – Building strong customer relationships and delivering customer-centric solutions

* A COMBINATION OF RELEVANT EDUCATION AND EXPERIENCE MAY BE CONSIDERED
Our Team Members receive competitive salaries, a comprehensive benefits package and an employer-contributed pension plan. We encourage our Team Members to take advantage of learning opportunities, to grow and develop and to foster a culture of teamwork and innovation.

At Co-op, we embrace diversity and inclusion, and we're working to create a workplace that is as diverse as the communities we serve. We support and provide an environment that allows all to bring their whole selves to work.
Click here to apply online by August 15, 2021.
If you require additional information, please contact: Elnette, HR Advisor Office #: 306 446 7237

We thank all candidates for their interest; however, only those selected to continue in the recruitment process will be contacted.

Application Deadline:
August 15, 2021