BUY A DECK PACKAGE, GET A $50 GIFT CARD TO CO-OP LIQUOR
Actions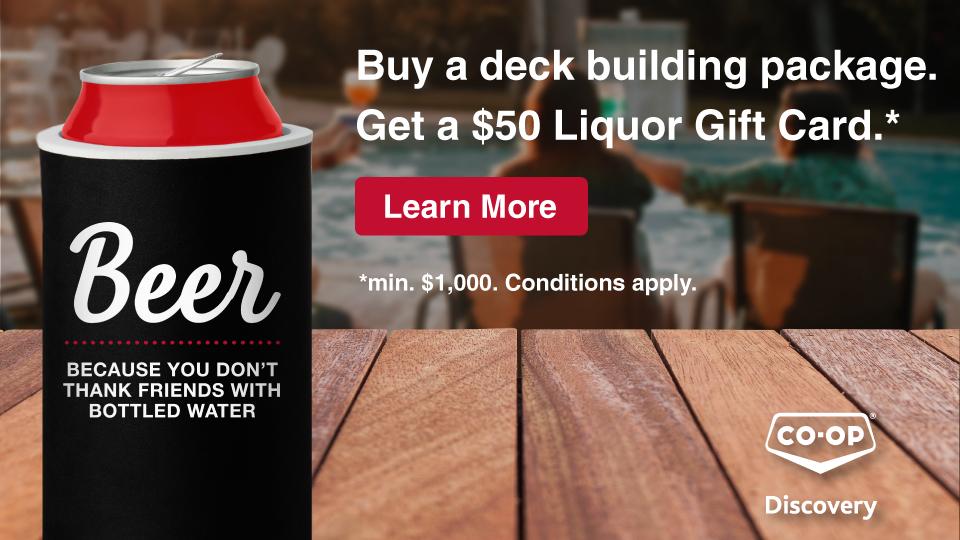 BUY A DECK PACKAGE, GET A $50 GIFT CARD TO CO-OP LIQUOR
July 5, 2021
When it comes time to build a new deck or replace your existing one, we all have those friends we call to help us out. The ones you can count on to show up and put in the work. The friends that are willing to help you build the sweat equity in your home. And how do we pay those friends? In ice-cold, refreshing beer (or seltzers!).
Now Discovery Co-op has a limited time-offer to help you say thank you to those friends that are helping you build your new outdoor oasis. Discovery Co-op Home Centre is offering a $50 gift card for the Discovery Co-op Liquor store when customers purchase a deck package valued at a minimum of $1,000.
To learn more, visit the Discovery Co-op Home Centre and Lumber.
Promotion runs July 5 — July 31, 2021.
Gift card recipients must be legal drinking age.
Discover more: