Celebrating Outstanding Contributions: Lifetime Achievement
Actions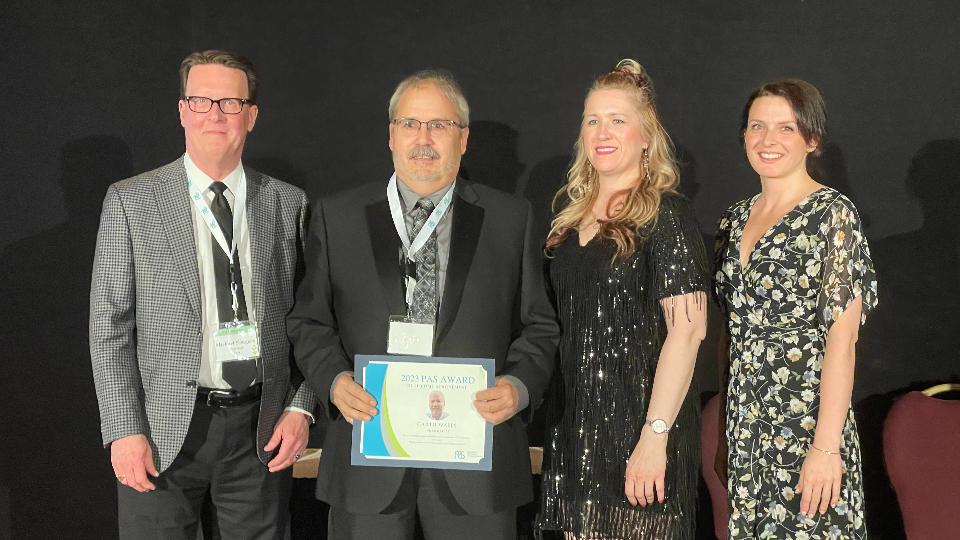 Celebrating Outstanding Contributions: Lifetime Achievement
May 15, 2023
Seasoned Discovery Co-op Pharmacist, Garth Walls, has been honoured with a Lifetime Achievement Award for his exceptional service and remarkable contributions to the pharmacy profession in Saskatchewan. With an unwavering dedication to advancing the field and a track record of exemplary leadership, Garth Walls has made a lasting impact on the pharmacy community and beyond.
Since 1979, Garth Walls has been an integral part of the pharmacy landscape in Saskatchewan, serving as both a staff pharmacist and pharmacy manager. His extensive experience, combined with his expertise in the field, has garnered him immense respect among colleagues and peers.
One of Garth's most notable achievements is his instrumental role in the establishment of the Pharmacy Association of Saskatchewan (PAS), formerly known as the Representative Board of Saskatchewan Pharmacists (RBSP). As the first Chair of RBSP, Garth spearheaded the formation of the association as an independent entity, separate from the College of Pharmacists. With visionary leadership, he served on the board of directors for five years, advocating tirelessly for the interests of pharmacists and the profession as a whole.
Garth's contributions extend beyond the impact he has made in his profession. He has been an active member of various committees, lending his expertise and guidance to enhance the profession. Moreover, he has displayed remarkable dedication to his community, serving as a Chamber of Commerce director for several years, a Town of Battleford Councillor for an impressive 21 years, and as the esteemed President of the Kiwanis Club.
Through his unwavering commitment to the pharmacy profession and his exceptional leadership skills, Garth has made a significant impact on both the industry and the Battlefords community at large. His continuous service as a pharmacist and pharmacy manager at Discovery Co-op reflects his unwavering dedication to providing quality care to patients.
Garth's exceptional contributions have earned him well-deserved recognition and admiration from colleagues and peers alike. His remarkable achievements, visionary leadership, and dedication to the pharmacy profession in Saskatchewan make him a true inspiration to others.
Discovery Co-op is proud to celebrate Garth and his outstanding contributions to the pharmacy profession in Saskatchewan.
Garth will be hanging up his white coat for the last time on June 30,2023 to retire and pursue his passion for travel, woodwork, and spending time with his family.
Discover more: