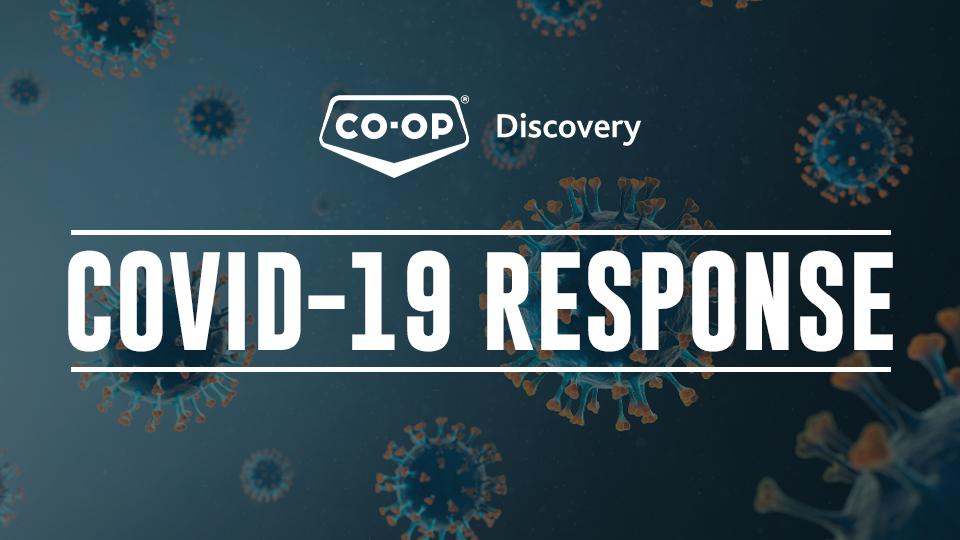 COVID-19 Response
March 18, 2020
The novel coronavirus (COVID-19) pandemic is a global challenge that's having a real impact on the communities Discovery Co-op serves.
Your Discovery Co-op is taking steps across all locations to help our communities stay safe and healthy. We're saddened by the news of all those who have been affected and we want to be diligent about doing our part to prevent more impacts.
All Discovery Co-op locations are cleaned and sanitized daily as part of normal business, but all locations have increased the frequency of cleaning, including shopping carts and baskets at food stores and pumps and door handles at gas bars. Discovery Co-op food stores and gas bars have temporarily suspended food sampling, and food stores have closed the hot and salad bars. Pre-packaged hot and salad items will be available for your convenience. Bulk bakery bins will not be stocked, but our bakery staff will be happy to serve you what you need and package it for you. Plexi glass screens are being installed in all departments to help limit exposure between guests and staff.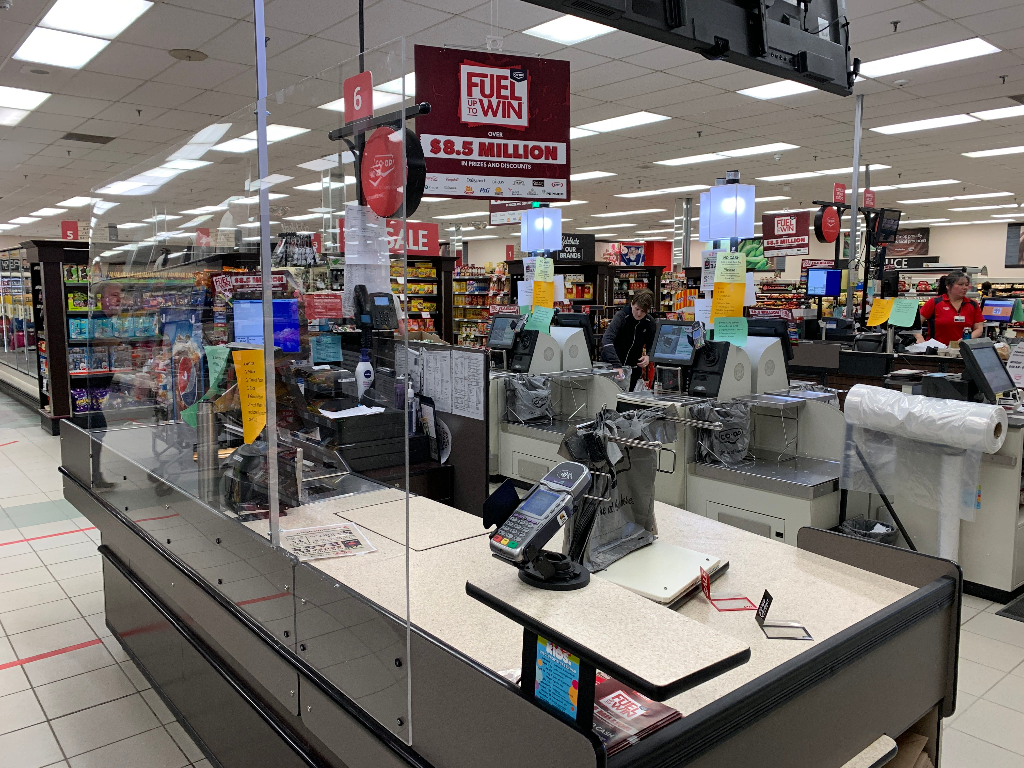 We are also ensuring that available preventative resources are made available to both customers and employees.

DISCOVERY CO-OP DEPARTMENT UPDATES
Discovery Co-op Food Store — North Battleford Location
Monday-Sunday 8:00am-8:00pm
Discovery Co-op Pharmacy — North Battleford Location
Monday — Friday 8:00am — 8:00pm
Saturday/Sunday 8:00am — 6:00pm
Discovery Co-op Café
Dining room seating area closed. We will be offering take-out/pick up options only. You can see the full Cafe menu here.
Monday — Saturday 8:30am — 4:30pm
Sunday: CLOSED
Leisure Time Sports
CLOSED until further notice
FF2
CLOSED until further notice
Gas Bars
Monday-Saturday 7:00am-9:00pm
Sunday 9:00am-9:00pm
Liquor Store
Monday-Saturday 10:00am-9:00pm
Sunday 12:00pm-6:00pm
Agro Centre
Monday-Friday 8:30am-5:30pm
Saturday & Sunday CLOSED

Administration Office
Temporarily closed to public. Please utilize online banking or mail in payments.
For assistance, please call (306) 445-9800
Farm Supply
Temporarily closed to public.
For assistance, please call your GROW TEAM representative or Farm Supply office (306) 445-9457
MALL TENANTS
Discovery Co-op has been notified of the following temporary closures of mall tenants:
Battlefords Denture Care
You're Next Barber Shop
Cell City
Territorial Dental Clinic (call for emergencies: 306-446-4434)
Truly U Wigs & Accessories
The Hair Loft
QQ Nails (effective March 22, 2020)
Dr. Van Der Merwe (for assistance please call 306-445-6040)
Denise's Massage Therapy (for assistance please phone: 306-446-2222)

The below list of Tenants are currently operating under temporary hours or alternate restrictions:
Visual Eyes Optical (closed to the public

—

please phone: 306-446-2082)
Vision Travel (closed to the public- please phone: 306-445-6248)
CBI Physical Rehabilitation Centre (by appointment only- please phone: 306-446-5670)
Connect Hearing (Monday - Friday 9:00am-1:00pm)
Co-operators (closed to the public- please phone: 306-445-7406 or email Nbattleford_Territorial@cooperators.ca)
Yellow Submarine (take-out only)
Can Sask Employment Services ( closed to the public - for assistance please call 306-446-8705)

PHARMACY PROTOCOL
Our pharmacies continue to follow the guidelines as laid out by the Government of Canada, Government of Saskatchewan, and the Pharmacy Association of Saskatchewan.
Due to longer than normal wait times, we recommend calling ahead before stopping in to pick up your prescriptions. If you are sick, or otherwise unable to leave your home, please contact the Pharmacy and we will assist in having your medication delivered to your home.
North Battleford Pharmacy: (306) 446-7213
Battleford Pharmacy: (306) 446-5520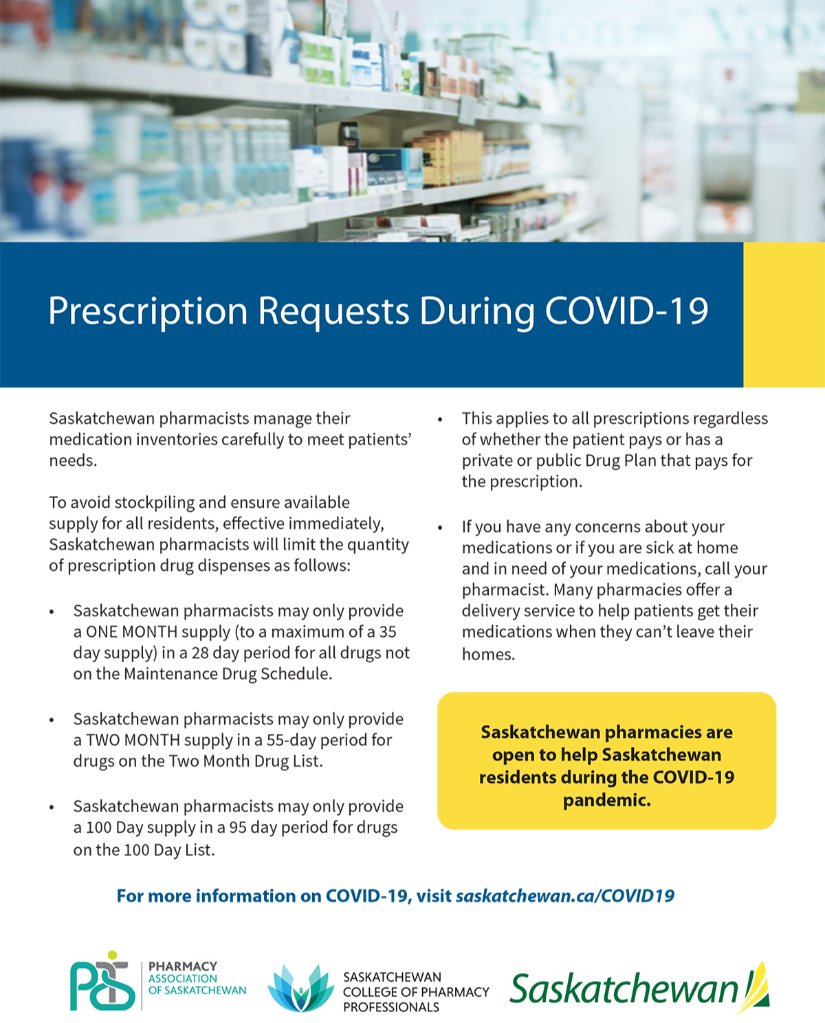 Your Discovery Co-op is also working with employees to ensure that they have current information on prevention so they can stay healthy or stay home if they are feeling ill. These practices are informed by Health Canada and the World Health Organization. We're also encouraging all Discovery Co-op guests and members to keep informed on prevention by visiting Health Canada, WHO and other helpful resources.
Given the guidance we've received from these agencies, as well as our own preparedness efforts, we believe that we're taking the right steps to ensure that your Discovery Co-op stores are safe. We'll also make sure that our prices on all essential items remain stable throughout this challenging time.
Thank you for being a loyal Discovery Co-op customer and member. We'll continue to update you as the situation evolves.