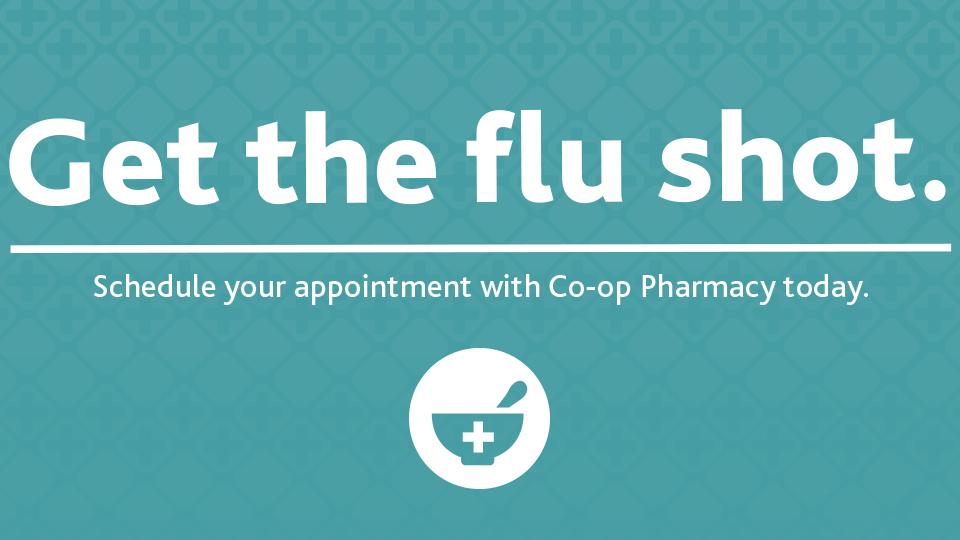 Flu Shot Clinics
October 20, 2020
Now, more than ever, it is important to get your flu shot to protect our health system from being overwhelmed. Preventing the spread of the flu is a responsibility we all share.
Your Discovery Co-op Pharmacists can give flu shots to any Saskatchewan resident over the age of 5, right here at our Pharmacy. Due to additional social distancing and safety measures, we ask that you please book an appointment prior to coming in.
Simply call your pharmacy, or book an appointment next time you pick up your medication.
NORTH BATTLEFORD PHARMACY
(306)446-7213
BATTLEFORD PHARMACY
(306)446-5520
Who's at risk?
The flu, or influenza, is a common, contagious respiratory virus that circulates predominately in the fall and winter. Symptoms include sore throat, fever, nausea and fatigue. Most people get better after resting for a week or two, but in some cases, influenza can lead to hospitalization or death.
Some people are at higher risk of experiencing complications from the flu:
Young children
Pregnant women
Elderly patients
People with respiratory illnesses (COPD and asthma)
Cancer patients or others with compromised immune systems
Those with diabetes
In these populations, getting the flu can be a matter of life or death, which is why it's important for you to take preventative measures. Hand washing with soap and warm water can minimize the virus' spread. Another way is getting an annual influenza vaccination, or flu shot.
Who should get the flu shot?
The flu shot not only helps protect you from the virus, but also protects others in the community. There is a small portion of the population who cannot receive the flu shot, such as very young children and individuals with severe allergies to the vaccine.
Because these people can't receive the vaccination, their health depends on people around them being vaccinated so they can't spread the flu.
The influenza vaccination is recommended for almost everyone, but if you're not sure you should receive it, consult a healthcare professional like your Co-op pharmacist.
Why do I have to get the flu vaccination every year?
Each year, the flu vaccination changes based on the strains of influenza viruses thought to be most common.
In addition, the antibodies, or protective cells, produced from the vaccination disappear over time. Without these cells, your body can't fight invading viruses.
Getting the flu shot prompts your immune system to make more antibodies that are specific to the strain of influenza viruses selected for that season.
I have the flu. Now what?
Unfortunately, once someone gets the flu, it's too late to get vaccinated. Rest and hydration are the only remedies recommended for otherwise healthy people.
Antibiotics do not help prevent or treat influenza, and may even make someone feel worse, since they can cause unpleasant side effects. However, antiviral medications are available for those at risk for complications, and may lessen the severity of the illness.
Experts agree that influenza prevention through annual vaccination is the best thing to do for yourself and for others. Talk to your local Co-op pharmacist about the flu shot today.
Discover more: