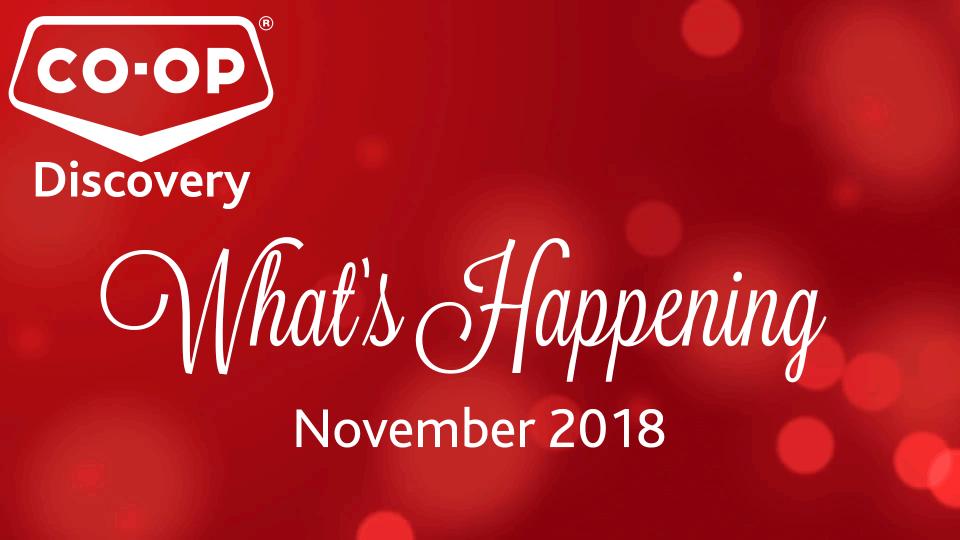 November Events
November 7, 2018
November 1 — November 21: Fuel Up My Town Contest
November 6: Prairie North Health Region is hosting a Fall Prevention Event in the mall with a wide range of businesses showcasing fall prevention and health safety
November 6 — December 28: Red Cross GIVE Cards available in all Discovery Co-op locations
November 9 — November 31: Forget Me Not Flowers available for purchase at all Discovery Co-op locations
November 13: FF2 Ladies Night from 6:30pm — 9:30pm. Get in on some huge savings and get a jump on this year's gift giving
November 17: Cooper's Birthday @ Capitol Theatre featuring Hotel Translyvania 3. This event is sold out!
November 22: Liquor Store Grand Opening & Pre-Black Friday Sales throughout the Mall
November 23: Black Friday Sales throughout the Mall
November 26 — December 15: Bring in your gently used winter jackets, toques, mitts, etc. to help those less fortunate. Donations will be delivered to the Lighthouse Shelter
On Going Throughout November:
North Star Game Day Coupons — Shop at any of the Gas Bars or Co-op Liquor store on game day and receive a $5 voucher off a game day admission.
It's flu season. Are you protected? Stop by the Pharmacy to book your appointment for your free Flu Shot.
Discover more: