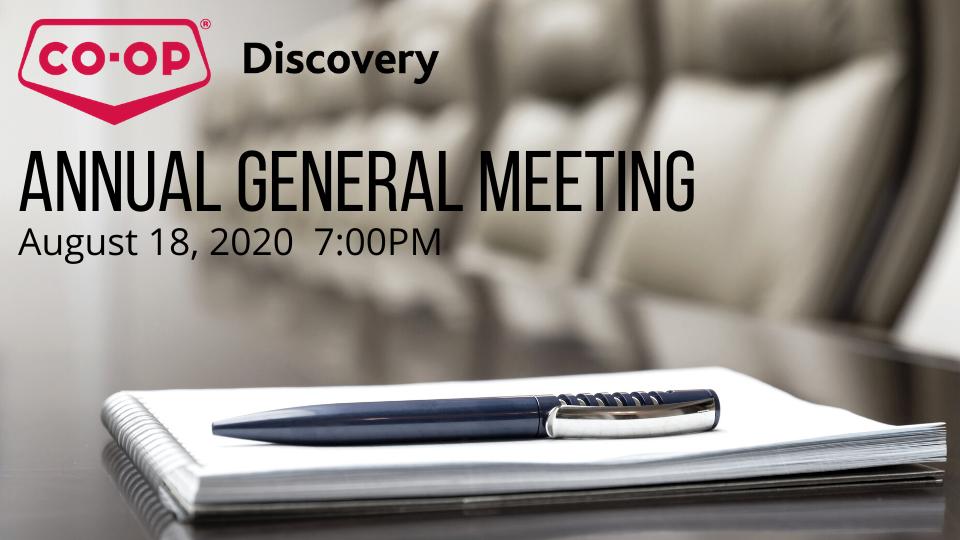 Annual General Meeting
July 16, 2020
Discovery Co-op's Annual General Meeting will be held virtually on Tuesday, August 18, 2020 beginning at 7:00PM.
If you are interested in attending our virtual AGM, please sign up at the following link until August 10, 2020. No registrations will be accepted after August 10th. We will e-mail you the information on how to join the online meeting.
*Please note: you MUST be a member of Discovery Co-op to attend and vote during this AGM. Your membership number will be required and verified.
Below you will find the Annual Report, which includes last year's minutes, financial statements and reports. Also below, is the bylaw document with proposed changes highlighted.
If you have questions you would like answered during the AGM, please submit them (along with your name and member number) to agm@discoverycoop.com. Please note: due to time constraints and/or privacy, not all questions may be answered live during the event. If your question is not answered, a member of the Discovery Co-op team will contact you to answer your question.