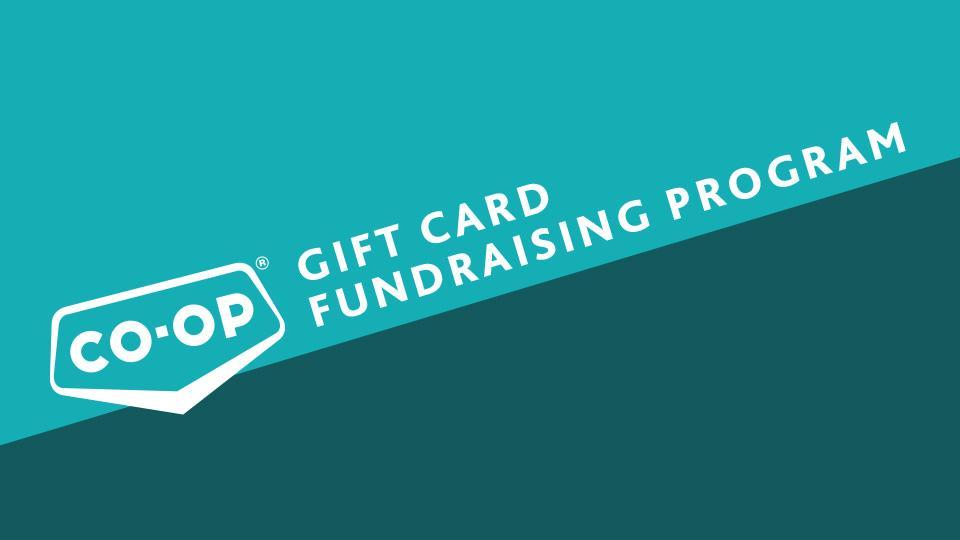 GIFT CARD FUNDRAISING
March 26, 2020
Our Gift Card Fundraising Program helps local community groups and non-profits raise funds to support their activities and operations.
Whether you're raising money to help your sports team, dance crew, charity or travel club, Co-op is here to help!
Eligibility
We welcome applications from:
Non-profit/registered charitable organizations exempt from taxation under the Canada Income Tax Act, whose programs and services benefit our community
Not-for-profit community groups and youth organizations (Non-registered are also considered)
Please note that someone on your fundraising team must have a Co-op membership to participate in this program, and that your group's purpose should align with our Co-op's values of Service, Excellence, Teamwork.
How it works
Your group receives 10% of the total amount of Co-op Gift Cards sold during your fundraiser.
1. Apply to participate online.
2. Pre-sell Co-op Gift Cards to your community supporters (we'll provide the forms).
3. Send us a summary of your sales and we'll invoice you for the discounted total.
4. Give us a cheque for your total order and complete a short survey.
5. Pick up and deliver your gift cards!
Gift cards are available in amounts of $25, $50, $100, and can be redeemed at any Discovery Co-op location which includes our: Food Stores, Pharmacy, FF2, Leisure Time Sports, Liquor Store, Home Centre(restrictions limited), any of 3 Gas Bar locations, Agro Centre, Glaslyn and Radisson locations.
Discovery Co-op uses Do Some Good to power their application forms.
Our Gift Card Fundraising Program is currently full. Please check back on February 15th to apply.
Program Details
Fundraising groups must be approved by Discovery Co-op to participate in the program. Individuals, government agencies, profit-based organizations, third-party fundraising campaigns and groups that may have an adverse environmental impact are ineligible to participate.
Approved groups will participate as follows:

All groups will be granted a 10% discount of a combined gift card maximum value of $20,000 per year (up to $2,000 discount per year).
Each year, 10 participants will have the opportunity to unlock a "top fundraiser" spot, where the combined gift card maximum value will be increased to $40,000 per year (up to $4,000 discount per year). Top fundraiser spots will be given to the first 10 groups to reach their original $20,000 limit.
Applications will be accepted at any point throughout the year.
Groups have until the end of our fiscal year (end of January) to make their gift card sales.
In February, groups must re-apply to be a part of the coming year's program.
Groups are encouraged to apply earlier in the year so that they have more time to sell their gift cards and to unlock a top fundraiser spot.

Equity is not earned on fundraising gift card orders.
Groups can participate in our Gift Card Fundraising program once per fiscal year.
Schools may only apply once per fiscal year. Individual class fundraisers will not be accepted.
Gift Cards are "not redeemable for cash" and cannot be used for payment on account, bulk petroleum, crop protection, fertilizer, grain bins or estimated or quoted purchases (ie. Building materials project, decks, garages, flooring) Payment of Gift Cards must be in the form of Cash or Cheque upon purchase of Gift Cards. No Volume Discount or Special Discount will be issued for purchases tendered with a Co-op Gift Card. The intended use for these gift cards are the purpose of purchasing everyday consumable products. Any identified misusage of gift cards purchased under this program may void the participation of the approved group.
Discovery Co-op, like other community-minded businesses, receives numerous requests for donations. Please allow a minimum of 2 weeks to review your requests and respond. Discovery Co-op works hard to assist as many community organizations as possible, however due to the high volume of requests received, not all worthwhile proposals will be approved. Such a response does not reflect upon the value of your organization and the valuable service you provide.

Discover more: